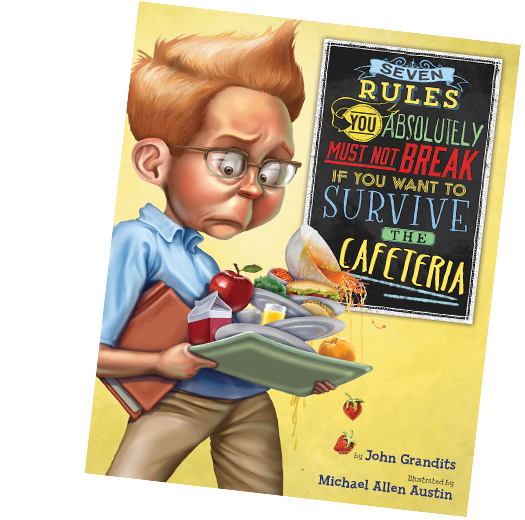 Roll-over images below to see more pages
Seven Rules You Absolutely Must Not Break if You Want to Survive the Cafeteria
by John Grandits
Illustrated by Michael Allen Austin
Kyle has always brought his own lunch to school. But today he's going to buy it from the school cafeteria instead. He doesn't think it will be any big deal. But his friend Ginny sure does. She says the food is terrible, plus there are rules that you must obey if you want to survive. Poor Kyle! Rules make him worried and scared, mostly because he usually breaks them. Now his stomach is doing flip-flops, and he hasn't even had a bite to eat.
Hilarious text and over-the-top illustrations explore what happens when Kyle encounters a lunch lady who buzzes around the cafeteria like an angry fly and a band of bullies that remind him of giant meat-eating water bugs.
Will the rules help—or will they make things worse?
REVIEWS
"Grandits and Austin team up again to bring readers more school rules that they should (not!) follow. Some solid advice about both the cafeteria and life is embedded in this tongue-in-cheek tale."
—Kirkus
"Viewers learn along with Kyle that anxiety-inducing situations aren't always what they seem."
—Booklist
Find out more about the illustrator Michael Allen Austin